Menu
Click to display menu
Share
Click to display social links
Where should we invest State Highway funds?
Over the past 8 months, we've been hard at work to understand what the public thinks we should invest in on the state highway network. The state highway network covers 12,000 miles of interstate, US highways, and MN highways. We've been to over 125 events around the state and heard from over 10,000 people. For a snapshot of what we heard, check out our outreach summary (coming soon).
We've wrestled with the hard decisions about where to spend money. With projected revenue of $21 billion and needs that top $36 billion, not everything we want to see on the system will happen. Considering public input, policy direction from the state and federal levels, and policy and technical considerations coming from MnDOT, we've drafted a plan of investments for the next 20 years (2018-2037). To learn more about MnSHIP's investment categories, click here.
Below is a chart showing where the money was invested, broken down by amount and percentage, and you can roll over each section to see the projected outcomes of these investments.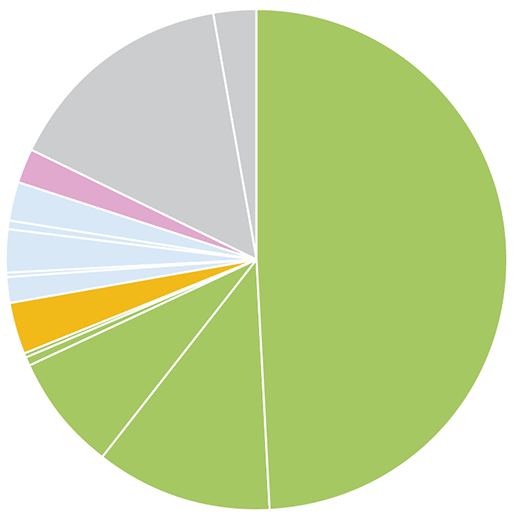 Highway surfaces/pavements
$10,457 M
49.4%
Current conditions:
Interstate — 1.9% poor; 12.4 years average remaining service life
Remaining National Highway System — 2.9% poor; 10 years average remaining service life
Non-National Highway System — 4% poor; 8.7 years average remaining service life

Projected condition in 2037:
Interstate — 4.5% poor; 10.4 years average remaining service life
Remaining National Highway System — 10-11% poor; 7.7 years average remaining service life
Non-National Highway System — 17-18% poor; 7.3 years average remaining service life
Bridges
$2,356 M
11.1%
Current conditions:
National Highway System — 4.5% poor
Non-National Highway System — 1.3% poor

Projected condition in 2037:
National Highway System — 5% poor
Non-National Highway System — 7-8% poor
Supporting infrastructure
$1,633 M
7.7%
The condition of more culverts, signals, signs, lighting, rest areas, and retaining walls are expected to deteriorate into poor condition. For example, currently the percentage of culverts in poor condition is 10%. By 2037, it is projected that 14-15% of culverts will be in poor condition.
Highway ownership
$93 M
0.4%
Through investment in highway ownership, MnDOT will be able to transfer more miles of roadway between MnDOT and local agencies to align the right level of government with the right level of service to better meet customer expectations for maintenance, ride quality, and safety. These roadways are typically lower traffic roadways than the rest of the state highway system, and are lower priority for improvement by MnDOT. This investment is expected to add to planned small repairs to make additional needed improvements acceptable to a city or county willing to take ownership of the road.
Rest areas/weigh stations
$81 M
0.4%
Only six percent of rest areas are projected to be in good condition by 2037. Forty-eight percent of rest areas will be beyond their service life by 2037. The frequency of replacement of weight scales is projected not to keep pace with deterioration of weigh scales allowing more scales to become outdated or inoperable.
New safety investments
$682 M
3.2%
Safety improvements made at 2/3 the current rate at identified low cost/high benefit locations through proactive and reactive projects. There is a limited ability to address locations with high sustained crash rate.
Twin Cities area mobility
$362 M
1.7%
From 2018-2023, investment made in two MnPASS corridors and six spot mobility improvements.
Greater MN mobility
$26 M
0.1%
Through investment, 6-10 improvements to be made at locations experiencing high travel time delays.
Bicycling
$147 M
0.7%
Investments made at ¾ the current rate of investment. This results in a limited ability to make new improvements for bicycling and maintain existing bicycle infrastructure as a part of pavement and bridge projects causing existing bicycle infrastructure to deteriorate.
Walking
$516 M
2.4%
Invest to meet Americans with Disabilities Act substantial compliance standards of the pedestrian network by 2037.
Regional/local priorities
436 M
2.0%
Respond to 2-5 economic development opportunities per year as a part of the Transportation Economic Development (TED) program.
Project delivery
$3,195 M
15.1%
Invest in components such as right of way acquisition and project development and design required to ensure delivery of projects.
Small programs
$559 M
2.6%
Continue to invest in small programs such as Off-System Bridges and Historic Properties.
Freight
$611 M
2.9%
Investment in Freight category is set aside for the Freight Investment Plan will determine how the investment will be used and what outcomes it will produce.
What else would you like to see on the state highway network?
We know this draft investment direction won't be everyone's favorite. We heard loud and clear as we went around the state that people wanted to spend more money in certain areas, in order to see their priorities addressed on the state highway system — be it related to commerce, safety, mobility or walking.
Please take a minute to tell us how you would spend additional money on the state highway network if MnDOT were to receive an increase in funding in the future.
If you need an accessible version of the survey, click here.