Menu
Click to display menu
Share
Click to display social links
Where we've been
Minnesota State Fair
08/27/15
to
09/07/15
The MinnesotaGO booth at the state fair

The MinnesotaGO booth at the state fair

The MinnesotaGO booth at the state fair
Statewide Multimodal Transportation Plan
The 21 trends that are being analyzed as part of the Statewide Multimodal Transportation Plan (SMTP) update process were grouped into five broad categories of change – population, economy, environment, technology and behavior. Participants were given two stickers and asked to vote on which changes were more important for MnDOT to focus on as we plan for the future; which areas are more important to direct our decision making.
Nearly 5,000 participants gave us their feedback. Here's what they said:

Environment

3,404 people

Economy

1,822 people

Behavior

1,552 people
MINNESOTA STATE HIGHWAY INVESTMENT PLAN
State fair goers helped us evaluate 13 Minnesota highway investment categories, 11 of which are being considered for trade-off as part of the 20-year State Highway Investment Plan. Participants were given three stickers and asked to vote on which categories (we grouped them into eight broader cateories) they would like to see MnDOT invest in as part of the state highway system. They could place the stickers in one, two or three different categories.
More than 5,400 participants gave us their feedback. Here's what they said:

Repair/maintenance
roads & bridges

5,817 people

Safe travel

2,494 people

Bicycling

1,891 people

Reliable travel times

1,690 people

Walking

1,351 people

Support Facilities
(rest areas, weigh stations)

1,083 people

Partnering for local
highway priorities

1,101 people

Main streets
improvements

923 people
Other places we've been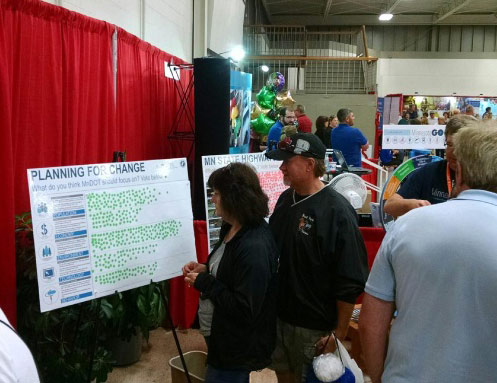 August 27, 2015 - September 7, 2015
MinnesotaGO went to the great Minnesota State Fair to get input from thousands of people on Minnesota's transportation priorities.