Menu
Click to display menu
Share
Click to display social links
Advancing equity
Addressing persistent disparities and expanding options
In the last 50 years, Minnesota's population has become much more diverse. Today, there are over one million people of color residing in Minnesota; a number that has almost doubled since 2000. Persons of color are projected to continue to make up a larger percent of the state's population over the next twenty years.
Persons of Color as a percent of the total population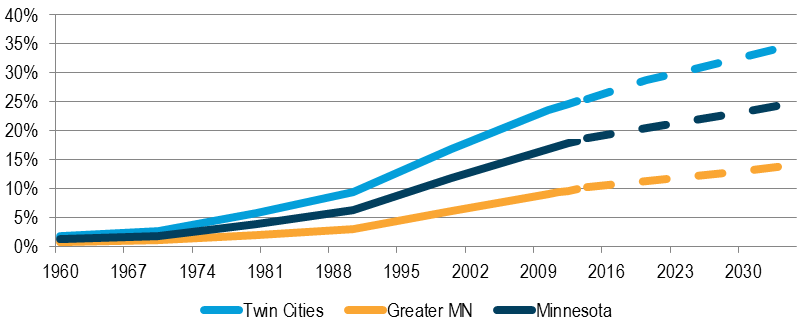 Source: Minnesota Compass
Today, Minnesota has some of the largest gaps in wealth, education, and many other factors between people of color and white people in the country. For example, Minnesota has one of the largest income gaps between people of color and white people in the United States. This gap has remained persistent over time.
Real per capita income by race (2015 dollars)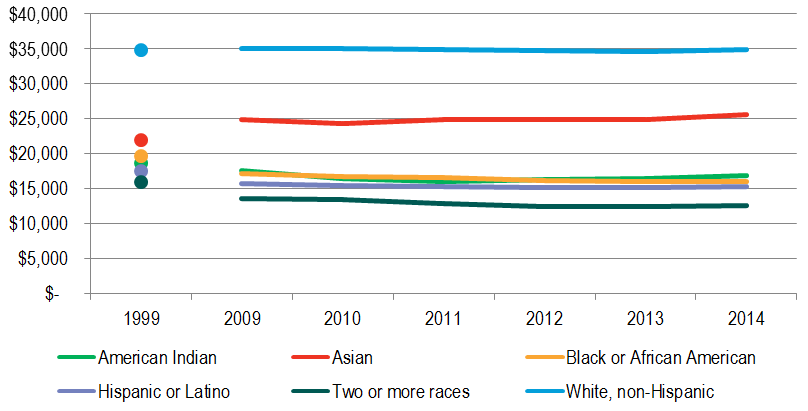 Source: Census Bureau
Regardless of race or ethnicity, poor families tend to spend significantly higher percentages of their income on necessities like housing and transportation. The financial burden of transportation is much heavier on low-income households and can limit access to jobs, services, education, healthy foods, and more. In the Twin Cities, lower-income populations make up a greater share of transit ridership than their share of the overall population. Providing reliable and affordable transportation options is essential to addressing disparities and ensuring opportunity for all Minnesotans regardless of socio-economic status or individual ability.
However, affordability is just one of many ways transportation affects equity in the state. For example, lower-income populations also often experience a disproportionate share of the negative environmental and health effects of our transportation system.
While transportation definitely plays a role in addressing equity, it can be difficult to determine exactly what to do about it. Transportation is one part of larger societal structures, and direct causation between specific actions and outcomes is often unclear. However, that doesn't mean MnDOT and transportation partners do not have a responsibility to address equity in everything we do. This includes diversifying our workforce, improving our engagement efforts, ensuring equitable access to destinations and opportunities, acknowledging the harmful legacy impacts of past decisions, and ensuring negative impacts of future decisions do not disproportionally affect any one community. We recognize we don't have all the answers yet, but with this update to the Statewide Multimodal Transportation Plan we are proposing to study, learn, test and implement ideas to help advance equity in Minnesota.
What do you think? Let us know your thoughts belowin the right-hand sidebar at the top of this page.
Related Trends