Menu
Click to display menu
Share
Click to display social links
Urban & rural performance
Responding to population patterns and statewide Performance pressures
What does it mean to be urban?

"Urban" means different things to different people. For example, in transportation planning alone, there are a number of different definitions of urban and classifications of communities:
The Census Bureau defines urban areas as communities with a population of 2,500 or greater
The Federal Highway Administration defines urban areas as communities with a population of 5,000 or greater
The Minnesota Legislature, through the State-Aid for Local Transportation program, recognizes cities with a population of 5,000 or greater
Metropolitan Planning Organizations are required for communities with a population of 50,000 or greater (also identified as a Census urbanized area)
Transportation Management Areas are federally required for area with a population of 200,000 or greater
MnDOT and the University of Minnesota developed a series of regional trade center levels to classify levels of cities using additional factors beyond just population
Regardless of how "urban" is defined, we know that more and more Minnesotans are living in these areas. Minnesota's total rural population has stayed relatively constant since 1900. However, over the same time period, the number of Minnesotans living in urban areas (defined here as greater than 2,500 people) has increased by 550%. According to the Minnesota State Demographer, this trend is projected to continue into the future, with the majority of growth occurring in the Twin Cities metropolitan area.
Minnesota's population distribution 1900 to 2040
Source: Minnesota State Demographer
How do we invest in urban and rural highways?

We know more people are moving to urban areas (however you define it), but what does this mean for transportation? Urban and rural highways are both important, but they are different. In particular, urban highways have unique challenges when it comes to roadway construction projects. There is generally more infrastructure along urban highways such as lighting, signage, curb and gutter and sidewalks, which can lead to higher project costs. Greater coordination with local partners is often required due to local utilities like sewer, water and fiber optics being located under roadways. This can make projects take longer to complete. There are often different mobility needs and a different mix of roadway users, which can result in different crash types and safety issues.
These differences are especially important as there isn't enough funding to keep all of our transportation infrastructure at the top of its game. Although urban state highways carry more than half of the traffic on the state highway network and almost a third of the traffic on all roads in the state, urban highways make up a small percent of our overall system—only 20% of the state highway network! As we think about where we do projects, we are often able to make greater progress toward statewide performance targets for overall system condition by investing more on rural highways. Rural highway improvements typically cost less so investing a dollar on rural highways will get you more than on urban highways. This raises the question — as it becomes more challenging for us to meet our performance goals, will statewide targets cause us to disproportionately invest in rural areas?
Distribution of state highway miles — urban and rural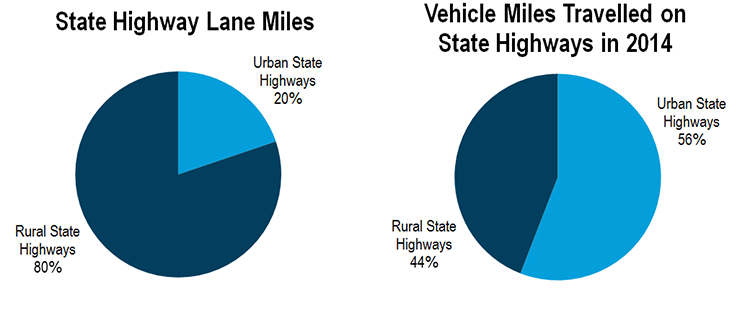 Source: MnDOT
Notes: The state highway network is only 10% of all roads in the state measured by lane miles. In 2014, the state highway network carried 58% of vehicle miles traveled on all roads in the state.
With this update to the Statewide Multimodal Transportation Plan we will be proposing to start tracking and reporting performance separately for urban and rural highway segments. This could help us identify potential issues as they emerge and ensure a balanced distribution of resources into the future.
However, just tracking and reporting measures separately may not be enough. The differences in urban and rural highways may necessitate setting different performance targets. For example, MnDOT's current metric for measuring pavement condition, called Ride Quality Index (RQI), assumes a travel speed of 50 miles per hour. In many urban communities where the state highway is also Main Street, the speed limit is much slower. At slower speeds cracks in the pavement have less impact on the perceived quality of the ride. Additionally, manhole covers, curb and gutter and crosswalks can all cause a stretch of pavement to register a poor ride quality, yet they are essential components of urban highways. It's worth considering whether different expectations for urban segments of roadway are needed to better reflect overall system expectations and needs.
What do you think? Let us know your thoughts belowin the right-hand sidebar at the top of this page.