Menu
Click to display menu
Share
Click to display social links
Minnesota State Aviation System Plan (MnSASP)

State Aviation System Plan
The Minnesota Department of Transportation (MnDOT) is updating Minnesota's State Aviation System Plan (MnSASP). The MnSASP is the Office of Aeronautics' long-term strategic plan, designed to provide a description and assessment of the system's current performance, as well as guidance for future development. MnSASP is part of MnDOT's Family of Plans, which stem from the Minnesota GO 50-year Vision. The vision outlines what Minnesotans desire from the state's transportation system and identifies key guiding principles MnDOT strives to achieve.
The MnSASP has been updated in two phases. Phase 1 was completed in 2019. The Statewide Airport Economic Impact Study was an ancillary study developed out of Phase 1 and was completed in 2020. Phase 2 is in the process of being completed.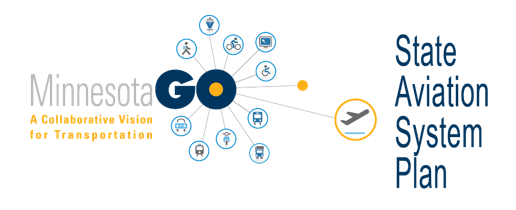 The MnSASP:
Sets goals for the aviation system
Identifies aviation needs
Creates a direction for the future
Phase 2
Phase 2 of the MnSASP involved validating the deliverables from Phase 1, analyzing policy issues facing the state aviation system, acquiring and managing data to develop a MnSASP database and display dashboard, publishing the SASP, and developing a continuous implementation plan.
Elements of Phase 2
Validating Recommendations and Deliverables from Phase I
Policy Issues to Analyze
Validate and Modify Phase I Data Acquisition Plan
Acquire data
Develop Data Management Plan
Database System and Display Dashboard
Public Involvement
Publish document
Develop implementation plan
Policy Issues
Operations Counting and Forecasting
Residential Through the Fence
Hangar Availability and Funding Participation
Airport Closures
Crosswind Runway Analysis
Clear Zone Policy and Ownership Analysis
Airport Zoning Analysis and Prioritization
Drones
Last Mile Connection Opportunity (Courtesy Car Analysis)
Display Dashboard
In Development
Statewide Airport Economic Impact Study
The Statewide Airport Economic Impact Study was an ancillary study developed out of Phase I. The study analyzed the annual economic impacts generated by 126 of Minnesota's 133 public airports. The data from the study was used to develop an economic impact calculator to estimate how airport businesses and projects benefit the local economy.
Phase 1
Phase 1 built the framework for a continuous SASP which strives to keep data current to better track performance metrics and share progress towards those metrics with aviation stakeholders. Phase 1 included an extensive Public Involvement Plan and tasks that resulted in a number of recommendations to carry into the Phase II effort.
Trend Papers
White Papers