Menu
Click to display menu
Share
Click to display social links
Chapter 2 – Wider Benefits of Transit
Connections
Transit provides convenient access to community destinations.
The American Community Survey (ACS) estimates nationally, 9% or 10.5 million households do not have access to a vehicle. The number in Minnesota is slightly lower at 7%. [1]; Transit provides zero vehicle households an opportunity to connect to education, cultural, social and recreational outlets throughout their community. Transit services enhance mobility thereby reducing social and economic inequalities. [2]; These activities help create strong neighborhood centers that are more economically stable, safe and productive. Transit service also helps preserve the small urban and rural community character by providing access to local and regional destinations for all people.
Access to reliable transit makes education, medical appointments and steady income possible. Public transit is a vital service for low-income populations, especially in Greater Minnesota where pockets of low-income families, often with limited access to opportunities to increase their incomes. Reliable transit service provides mobility and access to goods and services, promotes self-sufficiency, and independence, and frees up household money for other household needs.
Economic Benefits
Transit helps households save money.
Transportation-related expenses are typically the second largest share of household costs after housing. Nationally, between 2000 and 2012, combined housing and transportation costs increased 44% during the same period that income only grew 25%.[3]
Public transit provides an affordable transportation option for those who do not have access to a vehicle. The cost of vehicle ownership and operation continues to grow, reaching more than $10,000 per year for a medium sized sedan in 2013.[3] The average American household has 2.28 vehicles; 35 percent of households have three or more vehicles[3]Households encounter a number of costs associated with vehicles, including insurance, licensing, registration and vehicle taxes. Beyond the costs of purchasing and maintaining the vehicle, the cost of gas, parking and tolls are additional daily costs. In urban areas, off-street parking may require expensive permits or subscriptions to parking garages. In rural areas, long distances between destinations increase spending on gas and maintenance. The availability of public transportation can help reduce household transportation costs.
Transit supports the local economy.
Direct and induced economic drivers
The social benefits of transit in a community include access to medical care, nutritional services, social living and education. In economic terms, a transit system supports the economy through direct, indirect and induced benefits. For direct impacts, the transit system employs and pays local staff that generates a revenue through operations. The induced and indirect costs are considered the ripple effects of the economic activity from operating the transit systems. Effects include spending for the transit system in the local economy for purchased goods or services to support the system. Induced effects are those associated with the economic activity due to spending from employees of the transit system in the local economy. In total, transit systems are significant contributors to the local economy and serve as consistent drivers of economic activity.[4]
Cost-benefit analysis
Cost-benefit analysis is used to determine if benefits outweigh the costs of implementing transit service, and by how much. Benefits can include travel time savings, reduced vehicle costs, improved safety, reduced greenhouse gas emissions, induced travel, travel time reliability, community impact, parking and environmental quality. Costs include the initial and continuing costs, rehabilitation and end of project costs. In a 2014 survey of rural transit systems nationwide, Godavarthy et al. found on average, rural transit resulted in a benefit-cost ratio of 1.20, which means that every dollar invested in transit in rural areas results in $1.20 in benefits.
Separate from the direct and indirect economic impacts created by transit operator employment and related activity, the benefits to riders from improved access to jobs and services make up an important category within benefit-cost analysis. Although the benefits are generally larger in urbanized areas, small urban and rural areas have significant gains from transit service, "with between 40-46 percent of total transit benefits attributable to jobs and the economy."[5]
Figure 2.1 - Rural and Small Urban Benefits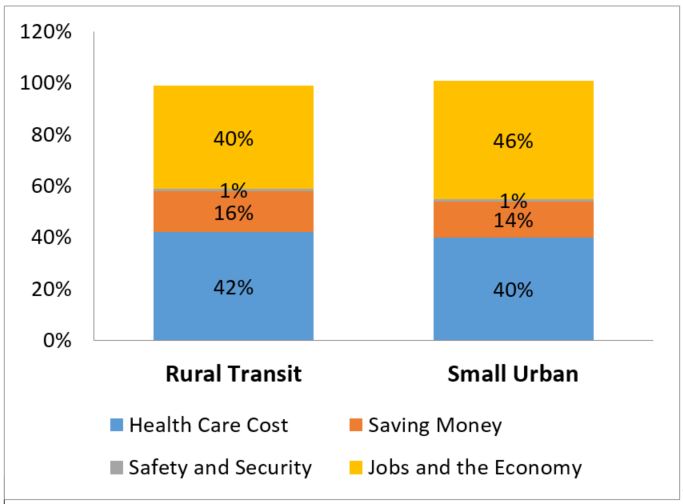 Figure 2-1 displays the difference between rural and small urban transit benefits based on the different components.
Return on investment
Return on investment (ROI) is a performance measure used to evaluate the efficiency of an investment, or the rates of return on financial investment in the project. In a study completed by the North Dakota State University Upper Great Plains Institute in 2014, researchers found that on the national scale, urbanized areas had a higher return on transit investments at $2.60:$1 compared to rural areas at $1.12:1. Overall, (U.S.) transportation cost savings benefits in rural areas total $196 million for fixed-route transit and $34 million for demand response service. [3] For Minnesota, small urban areas with fixed route transit have a benefit cost ratio of 2.86. The benefit-cost ratio for rural areas is 1.77, the 10th highest return in investment in the United States, with a statewide ROI of 2.11.[5]
The ROI for transit services in Minnesota follow the national trend of dial-a-ride service, a type of Demand Response having much lower at ROI of 0.64. Although demand response service may have a lower ROI than fixed-route service, the benefits to the community from demand response service are now being realized. For example, the community benefits $8.27 for every medical trip, $6.23 for every work trip and $16.35 for the total transit benefits.
Multiple studies have identified that the returns on investment can be greater than 3 to 1 by providing transit services that allow and support residents to live independently. Independent living increases the level of business activity in the community in addition to supporting individuals to live active lifestyles and be engaged in the community. [7] Transit also provides access to medical and nutritional trips. Cronin et al. found these trips to have the highest return on investment of all tested categories (125:1 and 110:1) respectively. [8]
Health
Transit increases physical activity.
The number of hours of physical activity per week declined 32% among Americans between 1965 and 2009. By 2030, this figure is projected to be 46% below physical activity levels in 1965. [9] Nearly half of Americans do not meet recommended levels of physical activity for adults (30 minutes or more of physical activity per day). [10] The amount of time some spent traveling in automobiles is one contributor to this trend. Taking transit can help increase physical activity and improve health. As shown in Figure 2-2, on average, transit riders walk 19 [11] minutes a day get to and from transit stops. [9]
Figure 2.2 - Walking to Transit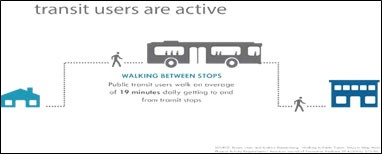 Transit can help lower rates of obesity and chronic disease.
Inactivity is associated with diseases such as diabetes (Type II), coronary heart disease, hypertension and obesity. Studies show over 5 million premature deaths per year result from disease related to inactivity [12] and an estimated $2,741 more is spent per year on higher healthcare costs for persons that lead inactive lifestyles. [13]
These same individuals are also more likely to take an additional week of sick days per year and live five years less than more active individuals. [14,15] Promoting the use of transit can help lower the risk of sedentary-related illnesses.
The benefits of living an active lifestyle have been shown to cause a:
50% reduction in coronary heart disease
50% reduction in adult diabetes risk
50% reduction in the risk of becoming obese
30% reduction in the risk of developing hypertension [18]
Transit access impacts health.
A growing base of research is measuring the economic outcomes of transit used for medical trips. Providing medical trips is a core of most demand response transit systems, especially in Greater Minnesota. Researchers have estimated that 3.6 million Americans do not obtain medical care every year because they lack adequate transportation to travel to medical appointments. [17] For individuals needing access to medical care, missing appointments can have a significant impact on their health. For example, missed health care trips could lead to decreased health and the individual may need in-home care or even an emergency care trip via ambulance.
Additional studies found that the transit dependent population is disadvantaged in ways other than simply access to transportation. The transit dependent population is disproportionately older, low-income, female, minorities, and without college degrees. Therefore, those lacking transportation have an inordinately high prevalence of disease. [18]
In addition to providing access to health care, transit also provides intangible benefits such as supporting individuals to live independently and remain connected to the community, friends and family, which prevents social and physical isolation.[19]

Air Quality
Transit reduces congestion and emissions.
According to the U.S. Environmental Protection Agency, the transportation industry is the second largest contributor to greenhouse gas emissions, at 26%, after electricity, at 30%. [20] Congested travel contributes to higher levels of emissions from vehicle idling and speed variance. The environment and public health suffer from auto-related emissions, particularly in areas where heavy traffic congregates. Convenient and efficient transit service can help relieve traffic congestion and reduce emissions.
People who live in more rural areas of Greater Minnesota may not experience traffic congestion but must travel long distances for work, healthcare, or other services. If these trips could be combined with public transit service, they could reduce single occupancy travel as well as the associated emissions.
Transit can help curb the effects of climate change.
Climate change will impact the national economy. On our current trajectory, the nation will lose between $66 to $106 billion worth of coastal property by 2050. [21] Extreme heat has significant economic implications for labor productivity and human health. Studies suggest that the frequency of days over 95 degrees will dramatically increase and extreme weather days may surpass the threshold at which humans can work outside, or inside without air conditioning, while maintaining a normal core temperature. [22] This could lead to productivity slowdowns and enormous strain on the energy grid when demand for air conditioning grows. Agriculture crops will also suffer in many areas of the country, including areas that are large agricultural producers. Efficient public transit can help curb effects of climate change by reducing the number of vehicle miles traveled and associated emissions.
Transit accommodates an aging population of Baby Boomers.

Baby Boomers are reaching retirement. Between 2000 and 2014, older adults (ages 65 and older) have increased 16% in Greater Minnesota.[23]Between 2014 and 2045, the older adult population is expected to increase by 88%.[24] This large population of older adults will require safe and affordable transit options to stay active and engaged in their communities, access daily services and medical appointments.
Transit allows for aging in place.
The national discussion surrounding the repercussions of the aging population and housing needs is a pressing one in Greater Minnesota, especially given the projected increased in the older adult population discussed earlier. Surveys and research have shown that people want to stay in their homes as long as possible; however, health and other factors sometimes require people to move into assisted living quarters. While research thus far is not conclusive, initial studies by the US Department of Housing and Urban Development authority point out that people who can age in place have better overall physical and mental health.
Transit supports changing transportation preferences.
Transportation preferences are changing for a new generation of Americans. The Millennial generation (approximately those born between 1981 and 1997) is driving less and using transit, biking, and walking more[25] as shown in Figure 2-3. Millennials are attracted to communities that offer multiple transportation options. Millennials—and other generations—value transit because it allows them the luxury of working while in transit, staying connected with peers, relaxing, or exercising.
Figure 2.3 - Millennials Traveling Differently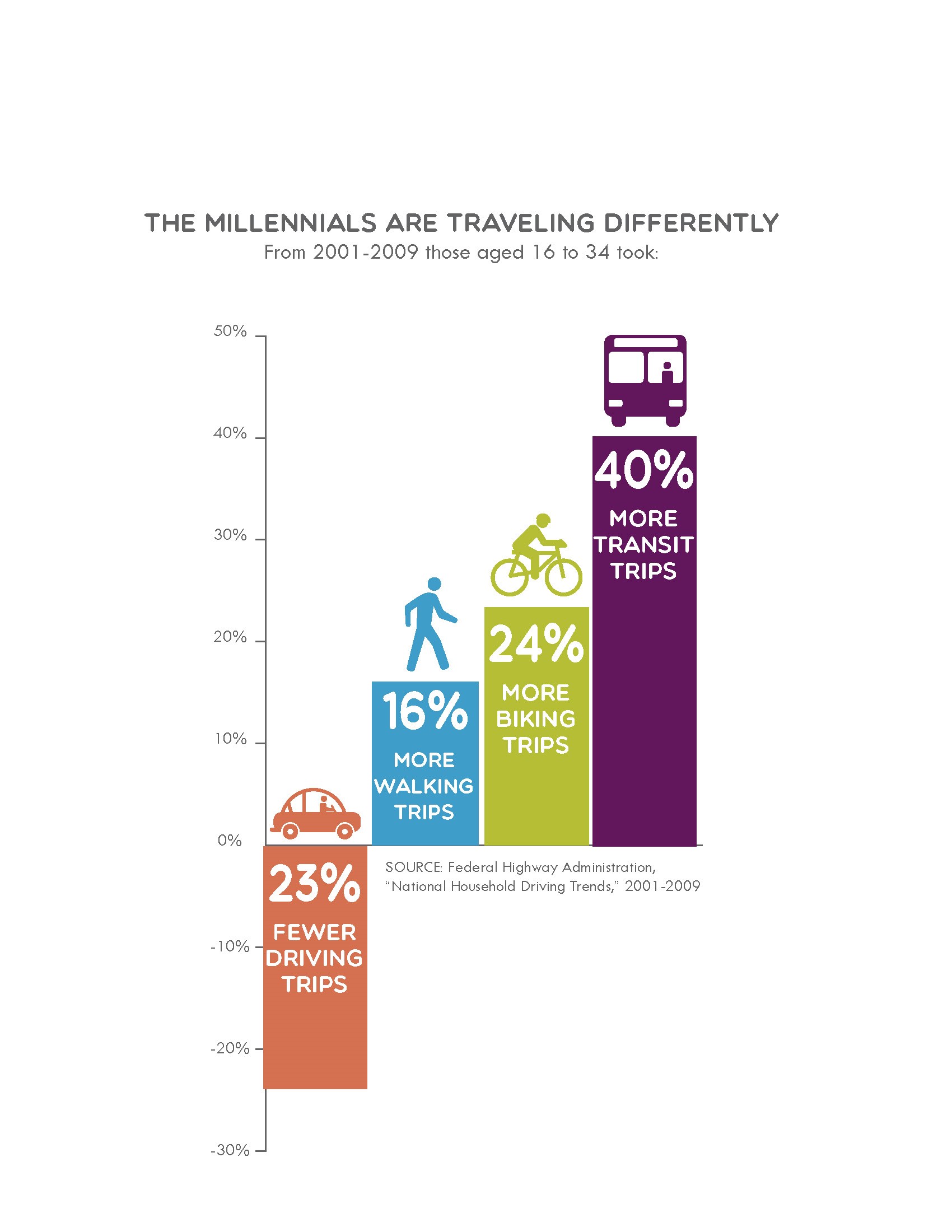 U.S. Census Bureau, 2011-2015 American Community Survey 5-year estimates. "Household Size by Vehicles Available for Minnesota, 2015."
National Association for State Community Services Program. "The Stranded Poor: Recognizing the Importance of Public Transportation for Low-Income Households. 2008 http://www.nascsp.org/data/files/csbg_publications...
Center for Housing Policy and Center for Neighborhood Technology. "Losing Ground: The Struggle of Moderate-Income Households to Afford the Rising Costs of Housing and Transportation." http://www.cnt.org/sites/default/files/publications/CNT_LosingGround.pdf
American Automobile Association. "Your Driving Costs." 2013. https://exchange.aaa.com/wp-content/ uploads/2013/04/Your-Driving-Costs-2013.pdf
Cronin, J., J., Hagerich, J., Horton, J., Hotaling, J. Florida Transportation Disadvantaged Program Return on Investment Study. The Marketing Institute, Florida State University College of Business. 2008
Ferrell, C. E. The Benefits of Transit in the United States: A Review and Analysis of Benefit-Cost Studies. Mineta Transportation Institute Publication (2015).
Godavarthy, R., J. Mattson, E. Ndembe. Cost-Benefit Analysis of Rural and Small Urban Transit. North Dakota State University Upper Great Plains Transportation Institute Small Urban and Rural Transit Center, July 2014, http://www.nctr.usf.edu/wp-content/uploads/2014/07...
Burkhardt, J.E. Economic Impact of Rural Transit. In Transportation Research Board: Journal of the Transportation Research Board, No. 1666, TRB, National Research Council, Washington, D.C., 1999, pp. 55-64
Cronin, J., J., Hagerich, J., Horton, J., Hotaling, J. Florida Transportation Disadvantaged Program Return on Investment Study. The Marketing Institute, Florida State University College of Business. 2008
Designed to Move: a Physical Activity Action Agenda, 2012. https://www.designedtomove.org/ en_US/?locale=en_US
Besser, Lilah, and Andrew Dannenberg. "Walking to Public Transit: Steps to Help Meet Physical Activity Requirements." American Journal of Preventive Medicine 29:4 (2005): 273-80. Accessed at http:// www.cdc.gov/healthyplaces/articles/besser_ dannenberg.pdf
Besser, Lilah, and Andrew Dannenberg. "Walking to Public Transit: Steps to Help Meet Physical Activity Requirements." American Journal of Preventive Medicine 29:4 (2005): 273-80. Accessed at http:// www.cdc.gov/healthyplaces/articles/besser_ dannenberg.pdf
Lee, I., et al. "Effect of Physical Inactivity on Major Non-Communicable Diseases Worldwide: an Analysis of Burden of Disease and Life Expectancy. The Lancet 380.9838(July 2012): 219-29.
Cawley, J. and C. Meyerhoefer. "The Medical Care Costs of Obesity: an Instrumental Variables Approach. Journal of Health Economics 31.1 (January 2012): 219–30.
Proper, K.I., et al. "Dose-response Relation between Physical Activity and Sick Leave." British Journal of Sports Medicine 40.2(2006): 17-78.
Olshansky, S.J., et al. "A Potential Decline in Life Expectancy in the United States in the 21st Century." New England Journal of Medicine 352.11 (2005): 1138-45.
Litman, 2009.
Wallace, R., Hughes-Cromwick, P., and Hillary Mull. 2006. "Cost Effectiveness of Access to non-emergency Medical Transportation: Comparison of Transportation and Health Care Costs and Benefits." Transportation Research Record, Journal of the Transportation Research Board No. 1956: 86-93.
Hughes-Cromwick, P.R., Wallace, H. Mull, J. Bologna, C, Kangas, J. Lee, and S. Khasnabis, 2005. Cost Benefit Analysis of Providing non-Emergency Medical Transportation. TCRP Web-Only Document 29 (Project B-27): Contractor's Final Report, Transit Cooperative Research Program, Transportation Research Board of the National Academies.
Prasad, R., Mattson, J., Ndembe, E. "Cost-Benefit Analysis of Rural and Small Urban Transit in the United States." Transportation Research Record: Journal of the Transportation Research Board, No. 2533, Transportation Research Board, Washington D.C., 2015, pp. 141-148.
EPA. Sources of Greenhouse Gas Emissions. 2014. Retrieved from https://www3.epa.gov/ climatechange/ghgemissions/sources/transportation. html
Houser, T., et al. "American Climate Prospectus: Economic Risks in the United States." The Rhodium Group. June 24, 2014. http://rhg.com/reports/climate-prospectus
Houser, T., et al. "American Climate Prospectus: Economic Risks in the United States." The Rhodium Group. June 24, 2014. http://rhg.com/reports/climate-prospectus
U.S. Census and American Community Survey 2014.
American Community Survey 2014 and Minnesota State Demographic Center.
Pew Research Center. April 2016. Retrieved from http:// www.pewresearch.org/fact-tank/2016/04/25/millennials- overtake-baby-boomers/